PHASE 1: PRE-CONSTRUCTION PLANNING (1-2 MONTHS)
PHASE 2: CONSTRUCTION (6-8 MONTHS)
Now, we can start building. Timing is hard to predict when you're building a home from the ground, up — every step of the process depends on a ton of external factors. While there's a lot that has to happen during construction, here's what you can expect:
Excavation and Sitework: depending on the condition of your lot, site prep and excavation could take anywhere from a couple of days to two weeks.
Laying Your Foundation: This will be one of three types — slab, crawlspace, or full basement
Framing: That is, putting up the entire wood structure and roofing. This is when your future home starts looking like a house.
Mechanical Rough-Ins: Our plumbers and electricians will run all the wires and pipes that reside in your walls.
Exterior Finishes: Installing the stone, brick, or siding that'll make up your exterior walls. This stage of construction can start anytime after framing is complete.
Insulation & Drywall
Painting
Trim Material & Flooring
Mechanical Installations: The plumbers and electricians return to install things like light switches and bathroom fixtures.
Appliance Installation
Carpets
Final Touch-Ups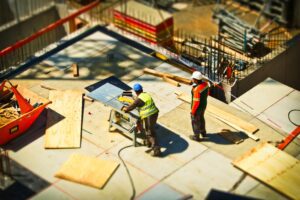 The first few inspections – or walk-thru's – will be internal. We'll spot-check our own work before bringing you in for a more formal inspection.
You're almost there. The finish line is in sight.
Depending on the type of closing, we may not even be present — this is especially true if you received a construction loan and already own the property.
All in all, the process of building a custom home will take 6 months to 12 months depending on the size of the home. It's a long journey, but it's exciting and the finished product should fit you and your family like a glove.